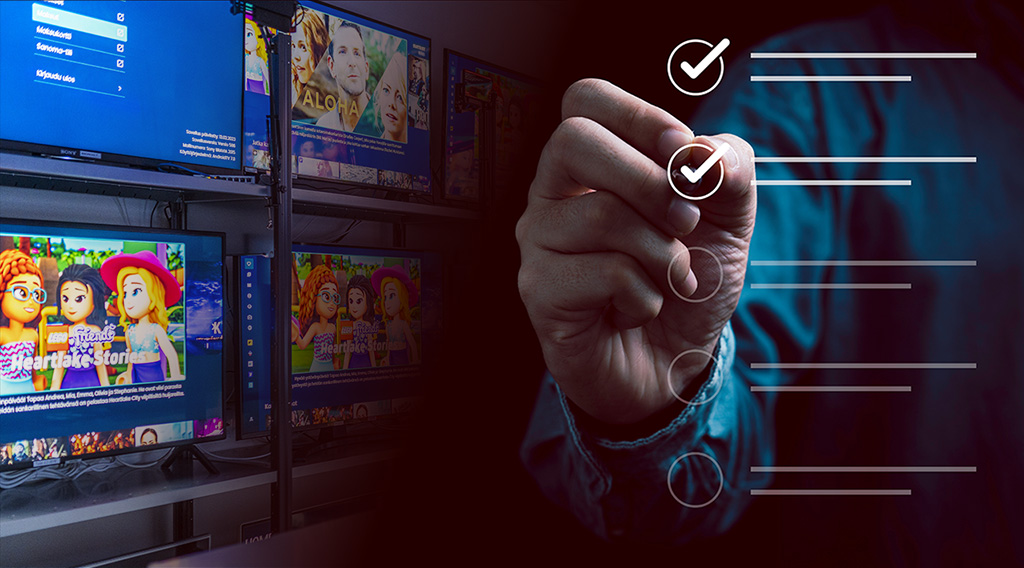 How do you make sure your Smart TV and HbbTV devices are ready to go to market? Download our testing white paper to find out. It covers device certification testing and international certification testing, as well as explaining platform conformance testing for Smart TV apps.
Different markets and regions often have different standards and regulations for Smart TV devices. In addition, each broadcaster ecosystem in a market, for example, a national TV network, may have its own requirements for the features apps need to support. In practice, the only way to make sure that make sure your devices and apps meet these varying requirements is to test them. In addition, devices may also need to be certified to prove that they conform to the market standards.
Get your device certified
When a new TV or set-top box is brought to market, it needs to meet customer and regulator expectations. This means that each new device must be tested and certified before it is released to verify that it works correctly with local networks and services, and that it meets local market requirements. If your company wants to expand to a new market, your products will probably need to be certified before they get approval – in some countries and areas certification is mandatory. For example, in the Finnish market, all new Smart TVs, HbbTV receivers and set-top boxes should be certified with the Cable Ready and Antenna Ready logos.
Since regulations and requirements vary by country and region, it's helpful for device manufacturers to work with local partners who have a good understanding of national certification schemes. At Sofia Digital, we are especially familiar with the local regulations, requirements and market environment in the Nordic region, and we can also support manufacturers in other regions, too. For example, we work with local operators in Malaysia, and we can offer consulting on how to set up testing for different markets.
Conform with broadcaster requirements
In addition to different device requirements, manufacturers must also ensure that their Smart TV applications conform to the requirements of all the major broadcasting companies and OTT services in a market. This means that each app should be tested to ensure that it supports all the general requirements, as well as broadcaster- and platform-specific features. Conformance testing can include things like testing the advertisement playback and analytics, the Digital Rights Management system, the player component and its support for different resolutions, frame rates and dynamic ranges. Note that app updates should also be tested for conformance before they are launched to catch any issues that changes and upgrades might have caused.
Once your Smart TV or HbbTV product is certified and you have verified that your apps conform to the market requirements, then you should be ready to go to market.
Find out more and download the white paper: It's hard to test too much – Why testing your Smart TV and HbbTV platforms and applications is essential