Customizable OTT platform
MADE-TO-ORDER INTEGRATED OTT SOLUTION FOR BROADCASTERS AND OPERATORS
CUSTOMIZABLE OTT SOLUTION​
Tier 1 broadcasters and operators often have an existing backend environment complete with encoding, transcoding, DRM, CDN and content management systems. These companies design and develop the OTT experience in-house with dedicated teams. This generates a demand for an approach where the client-side application, multichannel UI and UX are created and integrated into the existing and widely deployed customer environment.
Sofia Digital's OTT platform is based on best practice solutions from multiple deliveries around the world. Our modular approach has numerous available components and backend integrations to all the most common backend systems to select from – all fully customizable.
At the same time, if the customer does not have a complete OTT environment yet, Sofia Digital can provide the necessary backend solutions with its partners.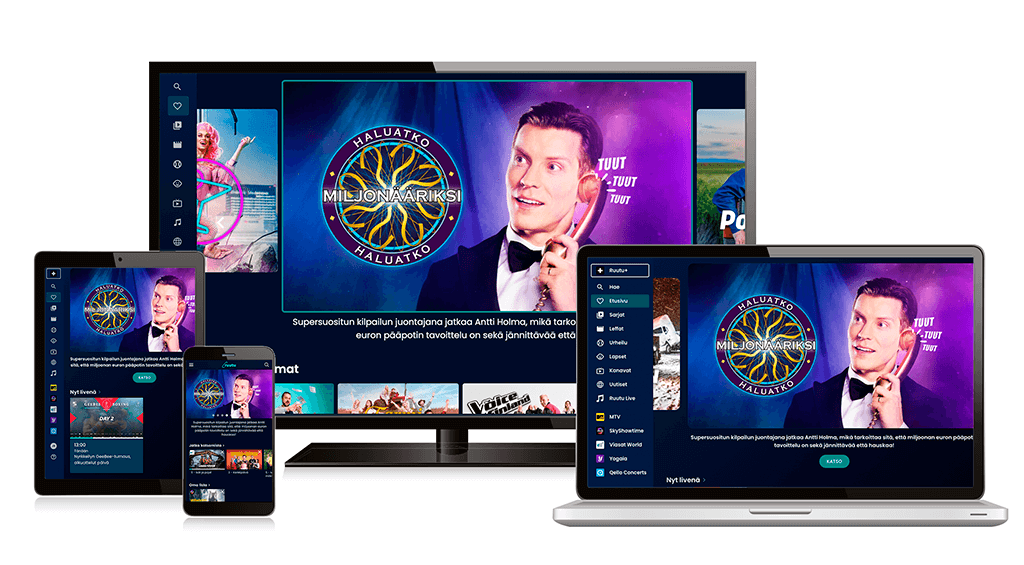 Sofia Digital's Approach To Ott
Fully customizable solution – easy migration and integration to pre-existing infrastructure components
Rapid agile development including extensive testing with selected platforms and devices
Faster frontend development with a glue API to all selected platforms
Freely customizable user interfaces
Robust technology with Sofia Digital's award-winning Backstage and best-in-class third-party solutions
DOWNLOAD OUR OTT WHITEPAPER
Unlock the potential of OTT services with our informative whitepaper. Get insights into successful launches, expansion opportunities, backend and advertising integration, viewer satisfaction, and more. Download now and take the first step towards a profitable OTT service with our expert advice.
Successful deployments to many different customer environments all around the world
Tested integrations to a wide number of backend platforms already available
Support for OPEX and CAPEX models as needed
Supports all monetization models
All advertising and subscription models based on customer's selected backend
Extensive receiver laboratory
Over 190 televisions in the laboratory, which facilitates the whitelisting of devices and generates maximum reach for the OTT service
Over 20 years of experience in interactive television technologies and worldwide pioneer in reception and distribution technologies
CASE RTMKLIK (RTM MALAYSIA)
Since 2019, in addition to HbbTV services, Sofia Digital has also worked together with the Malaysian company Quickmedia to develop and deliver the RTM "rtmklik" (formerly "myklik") OTT website and mobile applications. The RTM rtmklik service has free access with an optional user login.
The RTM rtmkik web service and applications have more than 500,000 users on the website, the Android and iOS mobile apps and the Smart TV and HbbTV clients.
Sofia Digital's OTT solution for rtmklik has full on-demand and live content discovery and includes all RTM TV and Radio channels with a rich EPG user interface. The applications are integrated with a multi-CMS approach, allowing the content coming from any 3rd party CMS system.
Components Of A Cutting Edge OTT-platform
Sofia Digital Core Solutions
DVB + OTT Hybrid solutions
Live TV/Radio streaming of existing linear services
Responsive OTT PC Browser experience creation and hosting
Cloud hosting of videos and applications
DVB-I service list and service guide services for OTT live channels and EPG integration
Applications and analytics system with real-time monitoring
Professional and Operational Services necessary to integrate, maintain and deliver the integrated end-to-end solution
Portable DVB test bed
Client Implementations
Linear streaming, Catch-up and VOD
SmartTV applications, AndroidTV, Tizen, LG, HbbTV
OTT client applications for linear streaming and Catch-up TV
Rich EPG and Catch-up HbbTV application
Responsive website OTT implementation
HbbTV portal application
Mobile client applications based on best practices (iOS and Android)
Video file encoding and transcoding services (on-prem)
Partner Solutions Or Integrations To Existing Environment
Multi-DRM system for content protection
CDN system for content delivery to a large number of customers
Origin servers for maintaining the videos on the server
Transcoding system for transcoding the videos to relevant formats
Ad server for providing ads for monetizing the service
Recommendation service for generating recommendations for the audience members
CMS and CRM integrated
Enriched metadata for linear and non-linear content
Audience measurement, analytics and reporting
Sofia Digital works together with the leading international companies in their respective fields delivering the backend solutions.
These companies include, among others, Irdeto, Intertrust, Vimond and Vewd. The full list of our public partners can be found here.
Sofia Digital's award-winning technology is powering transmissions in many countries throughout Europe and Asia. 
TV services made with the Sofia Backstage® Platform are used by millions of TV viewers.
WE ARE HERE
TO TELL YOU MORE