PROFESSIONAL DVB HEAD-END
WITH FULLY INTEGRATED HBBTV, PSI-SI AND EPG MANAGEMENT
Unique service offering by Sofia Digital
Sofia Digital is your best choice for demanding DVB head-end deployment projects. We offer the unique capability to deliver reliably despite challenging customer requirements.
Sofia Backstage® includes an integrated service workflow and full PSI/SI management, offering dynamic and easily managed DVB network operations. Sofia Backstage® Guide Manager and Playout Manager working together can accept virtually any service provider EPG data format and convert that to DVB metadata that is always up to date.
Using Sofia Backstage® DVB Head-End, operators can add HbbTV support into their networks, enabling Rich EPG data and TV-Guide Client application as well as various Catch-up TV and Start-over services hosted on the Sofia Backstage® Guide Manager Server.
Sofia Digital's HbbTV expertise further ensures state-of-the-art hybrid interactive applications and new TV services integrated with the Guide Manager and Playout Manager backends. Any 3rd party HbbTV applications work with the system as well.
Automated and manual PSI-SI generation, including PMT, SDT, NIT, TDT, EIT schedule (actual/other) and AIT
SI, IP or RF with TS-file support with any supported DekTec adapter product
Web-based system administration with automation, scheduling and user management
Generation of DVB compatible EPG using EIT-tables
Insertion of HbbTV compatible signaling based on ETSI specification 1.1 / 1.5 / 2.0.1
Playout of DVB receiver System Software Updates (DVB SSU)
Interfaces with many 3rd party DVB head-end components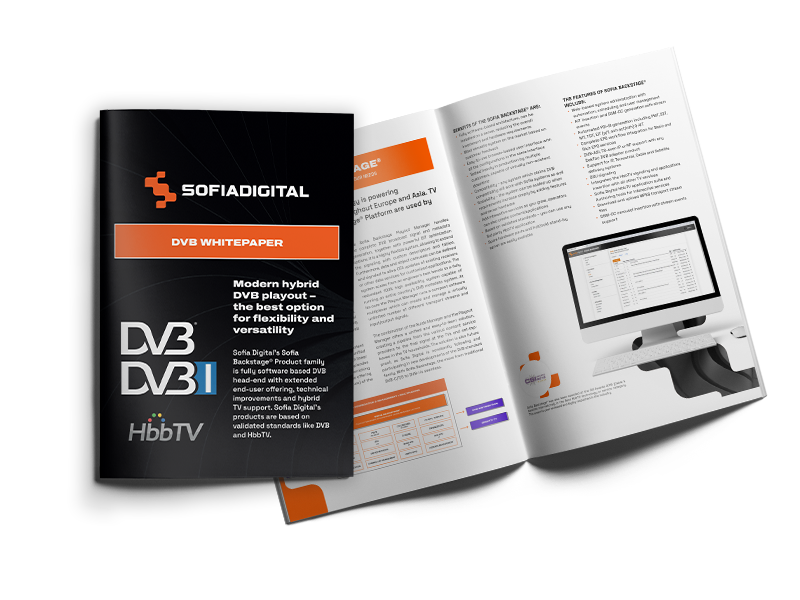 DVB is the international open standard for digital broadcasting with over 1 billion compatible receivers deployed. In our free whitepaper you will learn the benefits in switching from a hardware-based head-end to a software solution.
WE ARE HERE
TO TELL YOU MORE