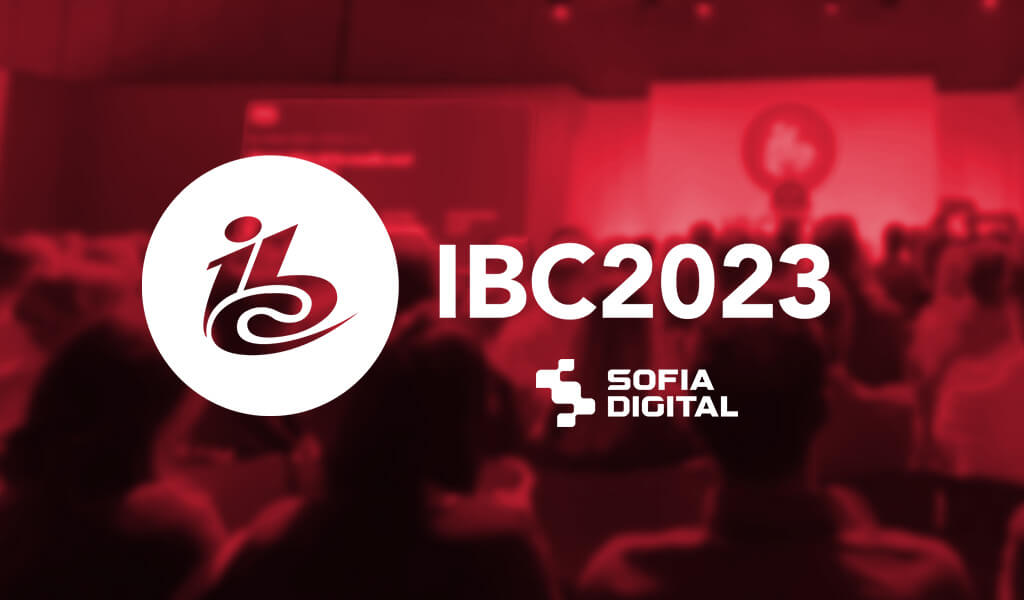 After our incredibly busy and successful participation at IBC2023, it's taken us two months to finally sit down and share our experiences. Better late than never, so here's our wrap-up of this year's event.
On September 15–18, RAI Amsterdam was once again buzzing with media technology professionals, as IBC2023 convened there to showcase the latest innovations and trends in broadcasting and media. According to the organizers, the event attracted over 43,000 attendees and 1,250+ exhibitors, representing over 170 countries.
Sofia Digital was, of course, in attendance as well. Although we lost count at some point, this was likely our team's 20th IBC. Like last year, we hosted our own booth in Hall 1. Our spot was busy with visitors, giving us a sense that it had become a hub where curiosity and insightful discussions took place naturally. The number of prescheduled appointments broke our previous records, almost doubling from last year. Additionally, we welcomed several drop-ins and also made visits to other exhibitors' booths. We'd like to think the attention we garnered reflects our standing as a reliable industry pioneer with in-depth expertise on several challenging topics.
At our booth, we showcased a comprehensive array of demos, highlighting the diversity of Sofia Digital's expertise in media technology. For instance, we demonstrated our OTT platform offerings, application testing services and solutions, innovations in Targeted Advertising, and the latest advancements in DVB-I, Smart TV, and HbbTV capabilities.
Many visitors took home our whitepapers and brochures, which present our innovative approaches and solutions in media technology. For those who couldn't attend IBC or for attendees wishing to dive deeper into our work, our whitepapers are available for download on our website (here), providing further insights into our capabilities.
RECOGNITIONS AND COLLABORATIONS
The demo for our Application for Premium Operators garnered considerable attention from our visitors and was notably shortlisted for a CSI Award in the "Best interactive TV technology or application" category. Although we didn't clinch the award this year, just being shortlisted was an honor, and the CSI Awards announcement during IBC surely contributed to the interest in our solutions.
In addition to the recognition in the CSI Awards, we were proud to be a part of another significant honor at IBC2023. The German DVB-I Pilot, in which Sofia Digital collaborated, received the "2023 Special Award for Innovation" at the IBC2023 Innovation Awards. This initiative brought together a wide array of stakeholders from the German media sector, spanning broadcasters, device manufacturers, software providers, and research institutions, all sharing the objective to refine the DVB-I standard and ensure the continuity of linear TV programming. With our name standing alongside other eminent entities like ARD, Dolby Laboratories, Sony Corporation, and ZDF, we're reminded of the collective strength and vision that drives industry innovations.
INDUSTRY TRENDS AND DISCUSSIONS
As in years past, IBC consistently mirrors current topics and anticipates future developments in the industry. By engaging with fellow exhibitors and attending various presentations and panel discussions, our team identified several hot topics resonating throughout the event:
The application and ethics of Artificial Intelligence (AI) in media production and distribution sparked a lot of discussion. This field is developing so rapidly that it will be exciting to see where we are at the next IBC.
OTT platforms were presented extensively, with numerous vendors offering their unique takes on constructing an OTT service to address varying customer needs. (Here's ours, by the way.)
Free Ad-Supported Television (FAST) and its role in reshaping content monetization drew considerable attention, spotlighting various innovative and customer-centric business models. Monetization remains a crucial theme for the industry, and there will have to be a diverse base of monetization strategies to attract and keep different audiences.
Sustainability emerged as a crucial theme. It seems that sustainability is no longer just a buzzword but a principle that everyone must inherently consider in their actions. It's no longer a question of why, but how, reflecting a deeper, industry-wide commitment to environmental responsibility.
As we reflect on the excitement and insights of IBC2023, our minds are already set on the future. Media technology is evolving at a quick pace, and we're thrilled to be at its forefront. We're looking forward to yet another year of innovation, collaboration, and deepening our connections within the industry, until we once again meet in Amsterdam in September 2024. We've already secured our stand for IBC2024, so we hope to see you there next year!