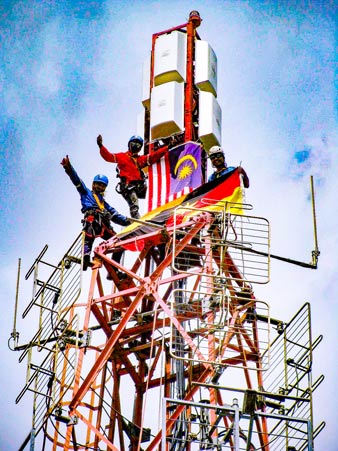 The Malaysian Communications and Multimedia Commission (MCMC) has announced a complete switchover from analogue to digital television (TV) transmission on the 31st October 2019. This marks a new era for the broadcast industry in Malaysia. The Malaysian Digital Terrestrial Television (DTT) platform is branded as myFreeview Digital Broadcast, that has now compared to analogue TV added more than double the number of Free-to-Air TV broadcasting channels in Malaysia with complements of Digital Radio services and Interactive TV applications.
The nationwide transition to digital TV was announced following a successful Analogue Switch Off (ASO) that took place in Langkawi on 21st July 2019. Based on the original plan, the transition had already begun in all peninsular states starting from the central and southern region on 19th August while Sabah and Sarawak transitioned 30th September 2019.
Below are the switchover dates according to MCMC's announcement:
| | |
| --- | --- |
| Territory | Switchover Date |
| Central and Southern | 30 Sept 2019 |
| North and East | 14 Oct 2019 |
| Sabah and Sarawak | 31 Oct 2019 |
This ASO was enabled by MYTV Broadcasting Sdn Bhd (MYTV), the company sanctioned by the Malaysian Government to build and operate the DTT infrastructure in Malaysia and has successfully covered 95.3% of DTT coverage in DVB-T2 and supplemental Direct-to-Home (DTH) for rest of the population. MYTV's main DMBH (Digital Multimedia Broadcasting Hub) is equipped with Sofia Digital's DVB headend technology, which has been running fluently since the first transmissions started in year 2016. Sofia Digital's products related to the switch-off are Sofia Backstage® Playout Manager for PSI/SI and HbbTV services insertion and for the EPG and Rich EPG data management Sofia Backstage® EPG Manager and Sofia Backstage® Guide Manager. The system runs at MYTV DMBH as high-available redundant setup with an additional disaster recovery center as backup.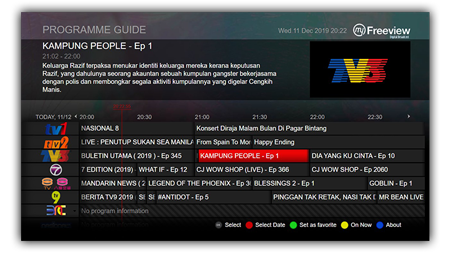 With digital TV via the myFreeview service, Malaysians can enjoy HDTV channels and Digital Radio channels at a higher quality. This includes new digital services from public TV and radio of Malaysia – RTM, Media Prima, TV Al Hijrah, Bernama News Channel (BNC) and home shopping. More channels will be added to the myFreeview platform in due course.
Apart from improving broadcast quality, the switch from analogue to digital will also free up the 700MHz spectrum for mobile connectivity. When it is utilised for 4G LTE, the 700MHz spectrum offers up to 12 times the coverage compared to 1800MHz. The lower band allows it to penetrate buildings and walls better compared to higher LTE bands. Analogue TV broadcast itself is very inefficient and the spectrum used to broadcast one analogue channel can be used for 10 channels in digital format in combination of SD and HD TV services.
For more information, you can check out MyFreeView's website.