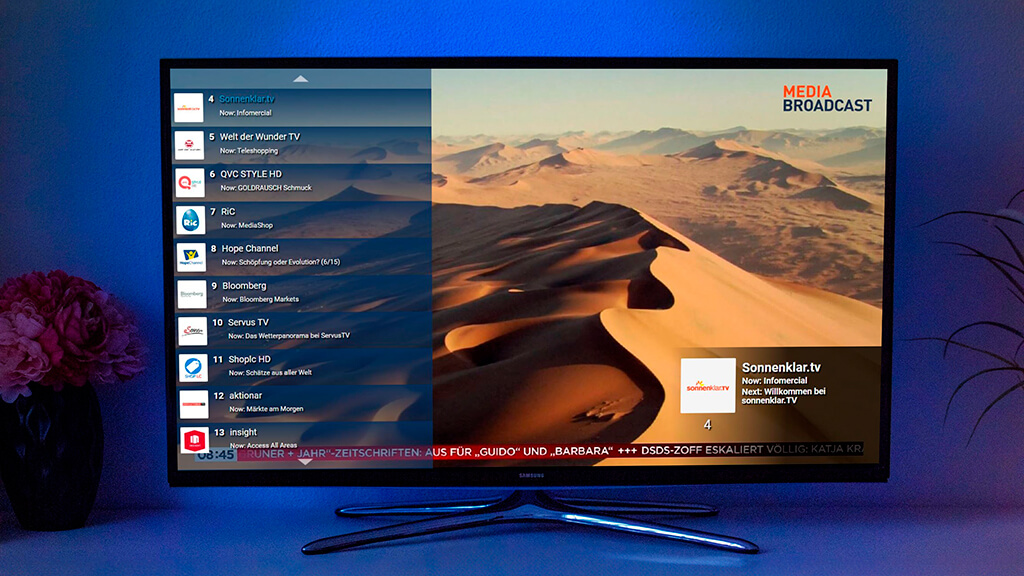 Sofia Digital has been deeply engaged with the DVB-I standard for many years, closely following its potential. Pilots and trials of DVB-I have been conducted or are set to commence in various countries, including Italy, Germany, Spain and Ireland. These initiatives aim not only to test the technology but also to determine the real value and potential benefits of DVB-I for the TV industry.
In this article, based on the lessons learned during the German DVB-I Pilot Phase 1, Sofia Digital offers additional insights into the importance of DVB-I to broadcasters and operators. We will also highlight some of the key issues when bringing the idea of DVB-I to reality.
The broadcasting industry has witnessed a significant transformation in recent years, driven by advancements in internet technologies which enable OTT video streaming and TV applications. In addition to the OTT apps, Smart TV manufacturers and TV operators have started offering so-called FAST-based TV channels aiming to simulate the traditional "lean-back" TV viewing experience. DVB-I presents a solution to the challenge of ubiquitous internet streaming to broadcasters and television operators. It accomplishes this in a standardized way, allowing the seamless expansion of traditional, broadcast-oriented TV viewing over modern internet delivery protocols.
In the following sections, we'll delve deeper into the ways DVB-I is influencing the broadcasting industry.
Improved Content and Metadata Delivery
The DVB-I ecosystem offers broadcasters and television operators a streamlined content delivery mechanism by leveraging the power of well-known internet technologies. Using the DVB-I metadata specification, DVB mABR content delivery technology and DVB DASH content encoding and packaging technology, broadcasters and operators can extend their offering into IP-based networks, while still using their existing channel line-ups, content sources and metadata. In addition to the traditional video and audio content, DVB-I can also carry interactive services utilizing the HbbTV application standard and other types of Linked Applications.
Enhanced Viewer Experience
DVB-I offers viewers better opportunities to engage with the available content of the operator and broadcaster. By providing a familiar service list with a comprehensive IP-based content guide (TV-Anytime) and the ability to link the HbbTV and other platform-specific applications, DVB-I enables user login, premium content, personalization and advanced content discovery. These are features that many viewers have come to take for granted after their experiences with existing OTT services.
With standardized metadata, broadcasters can organize and categorize their content in a well-supported and unified way. This enables viewers to easily search, browse and discover all the available content from all the broadcasters in the region, sharing the same DVB-I service listings, based on their preferences, genres and other relevant criteria. Improved content discovery leads to increased viewership and ensures that quality content reaches the right audience. Event channels, box sets (categorized groups of content) and playlists provide almost limitless possibilities for content providers.
Viewing Device Independency
With the proliferation of smart devices in every pocket, viewers are consuming content across multiple screens. DVB-I embraces this trend by offering good multi-screen viewing experiences through both native and downloadable clients. It also offers the ability to provide synchronized viewing experiences and interactive services through linked applications. Broadcasters and operators can deliver content seamlessly using any traditional DVB-delivery networks including cable, satellite and terrestrial, as well as through new internet delivery methods. This extends the reach to a variety of devices, including smartphones, tablets, smart TVs and set-top boxes, offering viewers the flexibility to enjoy their favorite channels and programs on their preferred devices, also outside the living room. Clients are already available as either reference implementations or commercial products to activate content on any screen.
Monetization Opportunities
DVB-I opens new avenues for monetization for broadcasters and television operators. Leveraging the power of IP-based delivery, targeted advertising (DVB-TA) becomes not only more accessible, but also more effective. Broadcasters can dynamically insert personalized ads based on viewer preferences, demographics and viewing habits. This targeted advertising approach enhances ad relevance, resulting in higher engagement and improved return on investment for advertisers. Additionally, DVB-I enables broadcasters to explore subscription models, pay-per-view options and other revenue streams, diversifying their monetization strategies.
The introduction of DVB-I and all its related standards represents a significant milestone in the evolution of digital television. By harnessing the capabilities of internet streaming, broadcasters and television operators can stay up-to-date with the changing dynamics of content delivery, enhance viewer experiences and unlock new monetization opportunities. As the broadcasting industry continues to evolve, embracing DVB-I will be crucial for broadcasters and operators to keep up with the competition and deliver compelling and immersive content experiences to their audiences. As DVB-I works seamlessly and simultaneously with existing DVB-networks and previously developed DVB DASH, DVB mABR, DVB-TA and HbbTV TA specifications, it acts as part of a complete modern framework for content delivery, monetization and consumption.
Sofia Digital: A Pioneer in DVB-I Development
Sofia Digital played an important role in the German DVB-I pilot through the development of the DVB-I Reference Application for the DVB Project. This offered the first glimpse into the potential of DVB-I, validating and further enhancing the standard. Sofia Digital also created the central service registry (CSR) for the DVB Project, proving that a central service registry or registries will be a key component in any commercial or national deployment of the DVB-I ecosystem. Leveraging the experience gained from these industry-wide reference implementations, Sofia Digital developed a more advanced DVB-I client for demonstration use in the German Pilot.
Building on its extensive experience, Sofia Digital offers its Sofia Backstage® solution to deliver end-to-end DVB-I functionality worldwide, spanning from the DVB-I Metadata backend to the client apps on any screen. As a pioneer of HbbTV as well, and the creator of the DASH DRM Reference Application, Sofia Digital has unique expertise in the next phase of digital content delivery and consumption.