Finnish ice hockey league "Liiga" is one of the most popular TV contents in Finland. Liiga broadcasting rights are owned by Telia from the season started in autumn 2018. The unique cooperation between Telia and the Finnish Hockey League makes watching hockey on TV to a completely new experience for Finnish hockey fans under the six-year media partner agreement. During the 6-year contract period Telia will show live games, produce TV content and additional content of the league. All matches will be broadcasted in Telia TV, with IPTV and a media box, on cable TV and operator-independently on mobile, tablet and PC.
Telia has selected Finnish TV production company Streamteam Nordic to handle and manage the production of Liiga in Finland. One part of the production was the splitting of different teams' matches in their respective own channels. Also the TV broadcasting needed to have an up-to-date schedule of the matches including the EPG (Electronic Program Guide) information to host the TV programming information in all Telia TV platforms and related applications.
Sofia Digital delivered the centralized Liiga TV-scheduling and metadata management to Telia in cooperation with Streamteam Nordic based on Sofia Digital's Sofia Backstage® server products. Sofia Backstage® Guide Manager aggregates the metadata from various sources, while also offering a graphical user interface to monitor, enter and update the data manually. The metadata includes Liiga match schedules for the team-specific TV channels lineup and additional data like Liiga team logos, as well as connection with a real-time electronic game clock synchronized from each ice hockey arena where Liiga games are played.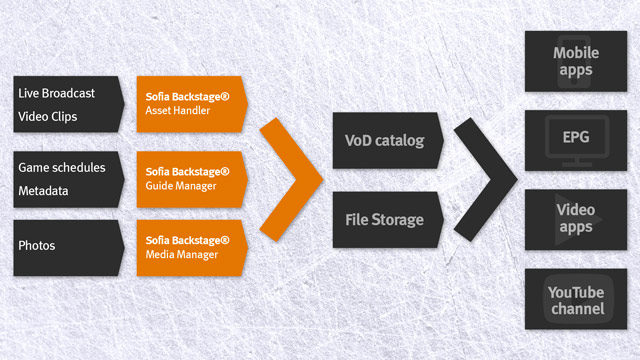 With the help of Streamteam's modern new facilities, each game in the Liiga series is packaged as one entity. These packages include game studio sessions before and after the game and other related materials with time-stamping events related to the real-time centralized game clock signals. Additionally Sofia Backstage® Media Manager is used as an image bank to manage all Liiga TV channels and applications related images and screenshots from video clips. Metadata hosted in Sofia Backstage® is also used for the contribution of additional video clips produced during and after the game. The system is designed in a way that allows easily further development, like for example pushing the video content into YouTube and other delivery channels.
Streamteam's CIO Juha Salmijärvis says: "Working with Sofia Digital has proven to be efficient. Sofia Digital has delivered all the results with high quality and in time. We can recommend Sofia Digital for similar projects wholeheartedly."
About Sofia Digital
Sofia Digital is an internationally recognized provider of interactive video and TV solutions, bringing new value-adding services to different TV terminals utilizing new digital technologies. Sofia Digital focuses on open standard interactive platforms, such as IPTV and HbbTV as well as digital signage. Since its foundation in 2000, Sofia Digital has served for example operator, broadcaster and device manufacturer customers in over 37 countries. Contact: info@sofiadigital.com
About Streamteam Nordic
Streamteam Nordic Oy offers technical production services for television broadcasting. Streamteam has done pioneering work in Finland to develop remote steering technology for TV production and image transmission. We are also known production as ice-hockey Finnish Elite League and the horse races.
About Telia
Telia Company is the New Generation Telco with approximately 20,000 talented colleagues serve millions of customers every day in one of the world's most connected regions. With a strong connectivity base, Telia is the hub in the digital ecosystem, empowering people, companies and societies to stay in touch with everything that matters 24/7/365 – on their terms. Headquartered in Stockholm, the heart of innovation and technology, we're set to change the industry and bring the world even closer for our customers.