Radio Televisyen Malaysia (RTM), a Malaysian public broadcaster has announced tender for HbbTV (Hybrid Broadcast Broadband Television) platform and services in 2015. The tender included the HbbTV carousel insertion system, applications with content creation tools and supporting services to be delivered to RTM Hybrid TV interactive services development platform in preparation for Malaysian DVB-T2 digital television network launch.
Sofia Digital Ltd., a world-leading HbbTV applications and services provider based in Finland, with Malaysian company NU-SECURE NET- 360 Sdn Bhd were awarded to provide the HbbTV solution for RTM. Requested system was delivered and installed to RTM interactive broadcasting department during middle of year 2015 and system was fully available already in September 2015. The system consists of Sofia Backstage® HbbTV Platform together with integration into RTM's back-end services. The core of Sofia Digital HbbTV applications include Red-button interactivity, Main service menu, Electronic TV guide, Catch-Up TV / Video / Radio services and 'Superteks' digital teletext news service. These services are available over the broadband Internet and some selected services can be offered using the Digital TV delivery network if there is no Internet connection available at the TV household. RTM's HbbTV solution is currently in trial phase.
Cekal Perangsang Sdn Bhd (CPSB), a Malaysian Broadcast System Integrator is a representative of Sofia Digital Ltd. in Malaysia. CPSB together with NU-SECURE NET- 360 has successfully delivered HbbTV platform to RTM. CPSB has the expertise and ability to give local support and attend to RTM's HbbTV when needed. Another important point is the CPSB's ability to create new HbbTV trial services and possibility to easily edit existing services with Sofia Backstage® HbbTV Authoring tool without any coding skills or deep knowledge of HbbTV standard.
RTM has been actively participating in the further development and roadmap of the HbbTV Authoring Tool requirements and has given good ideas for different services, which can be created with this tool. The development of Authoring Tool has been done in good faith among all partners and now RTM is able to create and publish new services easily for their HbbTV trial service menu to be accessed using the remote controller's "red button". Sofia Backstage® HbbTV Authoring tool is provided as a web based service to use with any standard PC with Internet HTML browser and it allows template-based application development and editing of existing published applications. New templates will be added regularly to support RTM in their service development.
During the first half of 2016, RTM MyKlik video services will be integrated on the HbbTV trial platform to enable TV viewers to watch RTM TV programs at any time over broadband Internet connection with HbbTV compatible receivers. The interactive HbbTV services of RTM will be expected to be part of Malaysian Digital Television platform launch which is happening right now to reach over 80% of the Malaysian population, and expanding during later this year.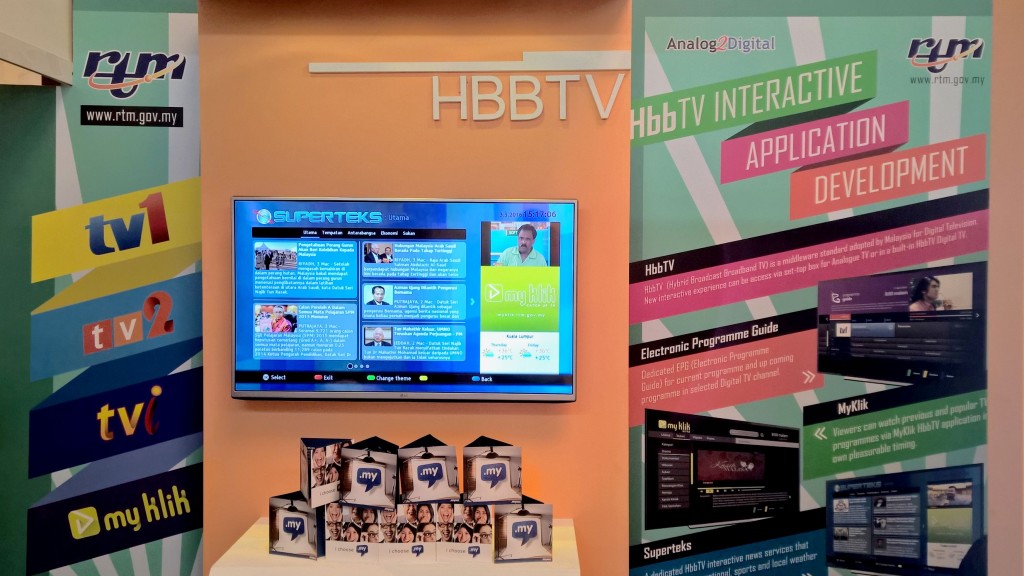 About RTM HbbTV Trial
During the HbbTV trial, RTM is working together with Sofia Digital in designing and developing the RTM's HbbTV applications such as Superteks, EPG, MYKlik VOD and Catch Up and social media. The applications' UI template for the authoring tool has also been discussed between the interactive content team and Sofia Digital in order to get the best design for the user experience. Since HbbTV is still new in Malaysia, RTM has participated in the international exhibitions such as KL Converge 2015, ABU Digital Broadcasting Symposium 2016 and also local exhibitions for Malaysian awareness. The Superteks application allows viewers to view and get the latest local news, sports, international and other information via HbbTV while watching TV. This is a new experience for Malaysian viewers and for the free to air broadcaster. MPEG- DASH has also been tested for RTM HbbTV Trial to enable high-quality experience in streaming media delivered over the Internet. In future, RTM plans to have MPEG-DASH VOD applications available for the viewers. This is another step to in enhancing RTM's existing TV streaming channel MyKlik. Currently Malaysian viewers with integrated television supporting HbbTV can already have the experience with HbbTV since it is already broadcasted on air with the help of Sofia Digital and Malaysian DVB-T2 network operator MYTV Broadcasting who approved RTM to test the HbbTV trial in live broadcast signal. All the applications can be viewed while connected to the internet, but in RTM's laboratory (RTM internal network) services have also tested with the red-button configured in the broadcast carousel. Currently all of the RTM's HbbTV applications are still in trial phase.
About Companies
Sofia Digital is an internationally recognized provider of interactive video and TV solutions, bringing new value-adding services to different TV terminals utilizing new digital technologies. Sofia Digital focuses on open standard interactive platforms, such as IPTV and HbbTV as well as digital signage. Since its foundation in 2000, Sofia Digital has served for example operator, broadcaster and device manufacturer customers in over 35 countries.
Contact: info@sofiadigital.com.
Cekal Perangsang Sdn Bhd, (CPSB) was established in December 2001 as a comprehensive professional system integrator for the broadcast and communication industry serving the wider Asia market. CPSB has been consistent in providing the best solutions, and top notch pioneer for new standards and overcoming integration challenges. The critical success factor of CPSB is the widely connected international network of brand leading technology partners and manufacturers, enabling CPSB to provide the highest level of consulting, implementation & support in varied solutions for the industry. CPSB has gained reputation being an industry leader and de-facto solutions integrator for Transmission System, TV Stations Production Facilities, Post production facilities, Education and Government agencies, as well as Telecommunication providers.
Contact: sales@cekalperangsang.com.my.
NU-SECURE NET-360 Sdn Bhd, (NUS) is subsidiary of CPSB. NUS is currently most recent business unit has been appointed to lead New Media Technology market in Malaysia expert in Hybrid Broadcast Broadband Television (HBBTV). Empowered with various experienced and industrial expertise has bring NUS and CPSB to move forward in line with clientele goals. The partnership with distinguish organization with Sofia Digital has anticipate more development to broadcast technology standard in Malaysia.