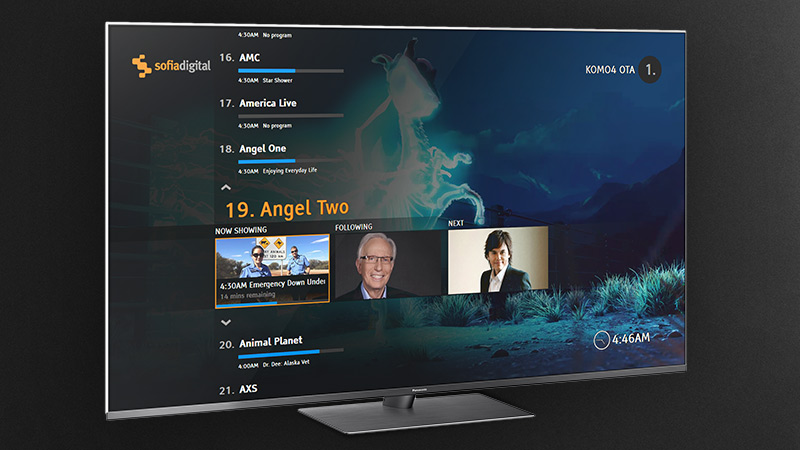 On November 14 at the 7th HbbTV Symposium and Awards 2018 hosted by the HbbTV Association, located this year in Berlin, Germany Sofia Digital, an internationally recognized provider of interactive video and TV solutions, partnered with SERAPHIC and Panasonic to display and Operator Application (OpApp) application demo at the event.
The OpApp application demo is running on a Panasonic Smart TV and on Skyworth Digital's OpApp-compliant set-top-box, powered by SERAPHIC's widely deployed Sraf HbbTV 2 browser. The Skyworth STB is the world's first ready-to-deploy OpApp-compliant STB device with 4K UHD and HDR support.
As one of the leading HbbTV application developers globally Sofia Digital sees the rapid growth of interest on HbbTV and OpApp. Because of the growing interest Sofia Digital leveraged its extensive experience in HbbTV application development and worked together with the industry to develop the OpApp application showcase.
"With this unique functionality that HbbTV OpApp is offering we believe that operators will get more support to deploy their services using HbbTV technology. This will benefit the whole TV industry." Mr. Mika Kanerva, COO of Sofia Digital, commented.
Xinwen Xue, VP Product Management at SERAPHIC added, "SERAPHIC has been keeping close relationship with industry partners to help deploy the latest OpApp specification. We are pleased to work with Sofia Digital to showcase a new OpApp application at HbbTV Symposium. "
About Sofia Digital
Sofia Digital is an internationally recognized provider of interactive video and TV solutions, bringing new value-adding services to different TV terminals utilizing new digital technologies. Sofia Digital focuses on open standard interactive platforms, such as IPTV and HbbTV as well as digital signage. Since its foundation in 2000, Sofia Digital has served for example operator, broadcaster and device manufacturer customers in over 37 countries. Contact: info@sofiadigital.com
About SERAPHIC
SERAPHIC Information Technology is dedicated to providing internet-related software and web-based solutions to all those TV-/Video-related terminal devices including Smart TVs, set-top boxes, over-the-top devices, game consoles, etc. SERAPHIC's product offering includes TV Browser for HTML5, HbbTV, OpApp, Freeview Play, YouTube TV, Sraf Lite, TV Portal and Open Browser as well as Web TV solution. The company targets at digital TV and consumer electronics markets in Europe, Latin America, Australia and Asia Pacific. For more information about SERAPHIC, please visit www.seraphic-corp.com or send an email to info@seraphic-corp.com.