European operator of infrastructure and telecom services Cellnex Telecom teamed  with the Finnish HbbTV service and application specialist Sofia Digital for new HbbTV services development targeting millions of HbbTV households by the end of 2018, in the Spanish market.
Spanish DTT broadcasters in collaboration with Cellnex, decided to enhance DTT by adding new features relying on HbbTV technology. In early 2018 Spanish major broadcasters and Cellnex ascertained the needs and challenges of the new digital context. As the conclusion of this study decision was to fuse the platform experience across the broadcasters, in order to optimise their ability to meet viewers' demands. The approaching 2018 World Cup presented a deadline for the initial soft launch of new services.
Sofia Digital brought their experience on MPEG-DASH and HbbTV to the table to help Cellnex build their own HbbTV Platform. The service utilizes Sofia Backstage® products and MPEG-DASH delivery format to give viewers with compatible receivers the access to past TV programs as well as the possibility to re-start the ongoing TV program using HbbTV-enabled smart TVs.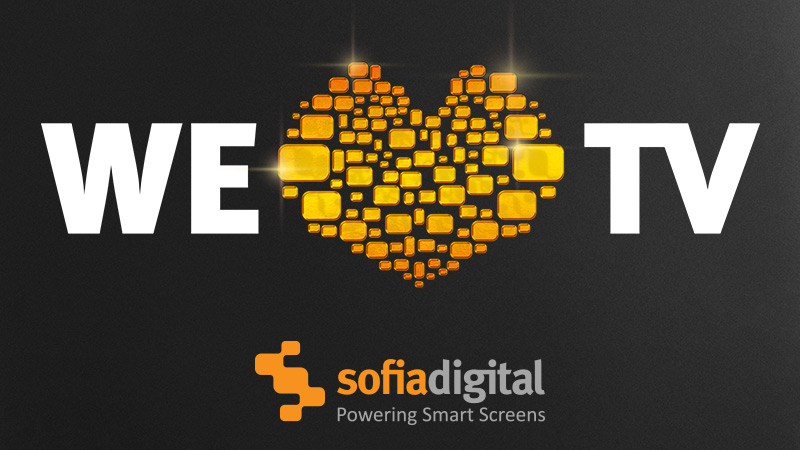 Sofia Digital helped Cellnex on the HbbTV Launcher and the Video Player applications. The Launcher application allows TV channels to offer access to any type of HbbTV service using the remote control. In the video player component which was integrated to Cellnex HbbTV Platform Sofia Digital integrated the viewing analytics as well as Cellnex catch-up and start-over capabilities. Viewers can continue watching the video from the point they left it earlier. The HbbTV video player also supports enhanced TV advertisement management and dynamic subtitle selection.
The project was executed with a tight schedule. The contract was signed in March 2018 and the platform's first version went live on June 14, 2018. Sofia Digital continues to work together with Cellnex to enhance their platform further after the initial launch version. The number of devices running the platform will be expanded during 2018 potentially reaching about three million homes by end of 2018.
About Cellnex Telecom
Cellnex Telecom is Europe's leading operator of wireless telecommunications and broadcasting infrastructures with a total portfolio of 28,000 sites including forecast roll-outs up to 2020. Cellnex operates in Spain, Italy, Netherlands, France, Switzerland and the United Kingdom.
Cellnex's business is structured in four major areas: telecommunications infrastructure services; audiovisual broadcasting networks, security and emergency service networks and solutions for smart urban infrastructure and services management (smart cities and the "Internet of Things" (IoT)).
The company is listed on the continuous market of the Spanish stock exchange and is part of the selective IBEX 35 and EuroStoxx 600 indices. It is also part of the FTSE4GOOD and CDP (Carbon Disclosure Project) and "Standard Ethics" sustainability indexes.
About Sofia Digital
TV application specialist Sofia Digital brings new value-adding services and applications to different TV terminals with unique competence is in hybrid TV and open standard interactive platforms, DVB broadcasting, Android TV, HbbTV and Smart TV apps. Sofia Digital TV applications and TV products are used for example in Finland, Germany, Spain, Hungary, Estonia, Turkey, Malaysia and Singapore.
For more information about Sofia Digital, please contact:
Juho Mäyränpää
Sales Director of Sofia Digital
email: info@sofiadigital.com
Tel: +358 40 123 4567