In this newsletter
Sofia Digital is exhibiting at BroadcastAsia2017
Sofia Digital will be exhibiting at BroadcastAsia2017, May 23 – May 25, 2017. Come to meet us at our stand 4A2-03. Sofia Digital's focus areas in this year's BroadcastAsia exhibition are DVB head-end, Smart TV applications and HbbTV. We will also announce new customer cases during the show, keep following our social media accounts: Twitter, LinkedIn
Request a meeting time during BroadcastAsia
BroadcastAsia2017, Asia's must attend international event for the pro-audio, film and broadcasting industries, wants you to leave your 'Imagination Unbound'. Congregate and network with professionals from Broadcast, Production, Post Production, Digital Media, Entertainment, Houses of Worships, System Integrators, Rental Houses and Education!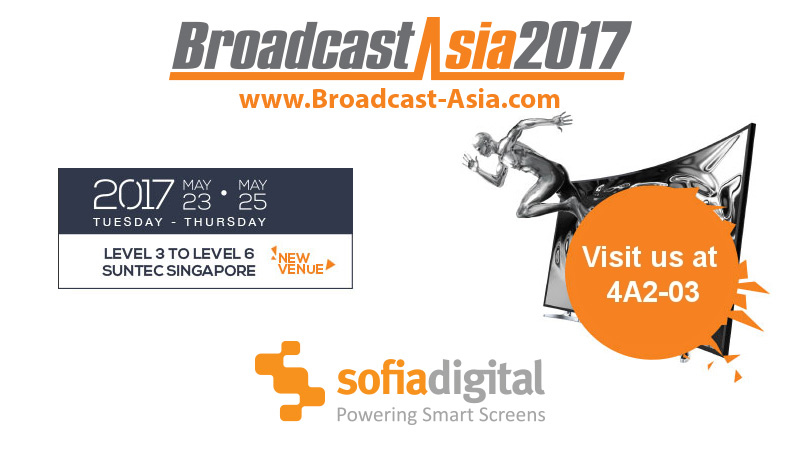 Sofia Digital to implement the reference video streaming application for HbbTV Association
HbbTV Association has selected Sofia Digital to implement the reference application for online video streaming including sample content for DRM protected video in HbbTV-enabled TVs and set-top boxes. The project aims to create an application and sample content with Sofia Digital to showcase the HbbTV technology and help the TV industry to validate their end-to-end tools, content and devices. The reference application will be freely distributed to any party interested in testing the technology.
Sofia Digital develops new HbbTV services to cable TV in the Netherlands
Dutch cable operator Delta is updating HbbTV services portal called "Het Portaal van Zeeland" where Delta offers video and TV applications from the Dutch broadcasters and number of national and regional services including weather and news from the province's pubic broadcaster Omroep Zeeland. Cable TV viewers can access the service by tuning into Delta's local information Channel with HbbTV compatible receivers as well as a subscription to the cabler's broadband service Zeelandnet.
Sofia Digital, a world leading pioneer in digital television development, delivers completely rebuilt Delta HbbTV application portal and selection of local applications and Live TV streaming services. Sofia Digital is leading HbbTV services development company including customers from Europe to South-East Asia. "Working together with Sofia Digital enables us to support and develop HbbTV based interactive services efficiently for our cable TV consumers " comments the Timmy Langeveld, the Senior Markt & Product Developer Multimedia of Delta N.V.
Antenna Smart HD Testing has started in Finland
Finnish telecommunication authority Ficom has started Antenna SMART HD testing in Finland, with Sofia Digital as one of the approved test laboratories. The certification scheme is based on Nordig 2.5 and HbbTV 1.5 specifications, and covers all the requirements of the Finnish HbbTV ecosystem and ensures that all HbbTV applications currently in production work correctly in all approved HbbTV devices. The specifications are freely available from http://testatutlaitteet.fi
Sofia Digital has acted as the official Finnish certification lab since 2007. Also, as a registered and independent HbbTV Test Centre Sofia Digital offers comprehensive HbbTV testing services for all interested parties on an equal basis.
New features released in Sofia Backstage® DVB Head-end
DVB Head-end product has also been updated. One of the new features allows the broadcaster or application developer import existing application information and data from object carousels from incoming transport stream source (live input or recorded stream) and import them to the built-in application library. The application information and data can then be edited and sent forward to operators' networks or a local test network.