Sofia Digital delivers DVB-I demonstrator application on Android television and phones for Media Broadcast in Germany
Media Broadcast and Sofia Digital have created a DVB-I demonstrator application. The application is designed to showcase a modern DVB-I client running in Android mobile and Android TV devices.
The new application uses the Sofia Backstage Guide Manager DVB-I server with ESG data integrated and supports the DVB-I central service registry (CSR). The demonstrator app also supports TVs' built-in tuners, providing seamless transitioning between DVB-I and traditional broadcast delivery. The service list is a combination of hybrid, DASH only and broadcast only services and is enhanced with channel and channel list logos and a service guide.
The app is primarily designed for the big screen / TV environments, but also Android mobile and tablet (touchscreen) versions were created. Attention was paid to ease of use for people who are not technically oriented.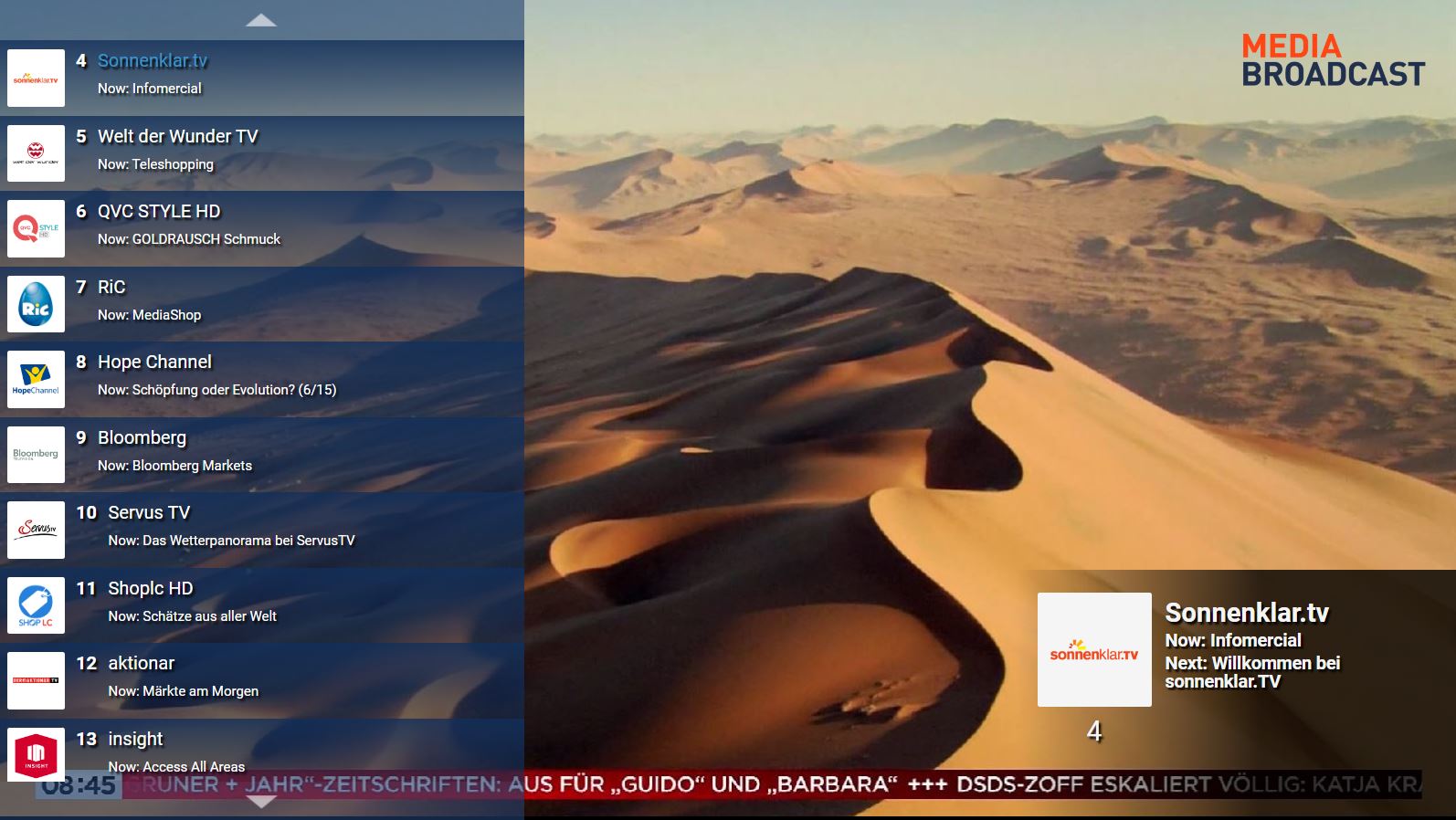 Juho Mäyränpää, Sales Director of Sofia Digital, says: "The project shows the genuine demand for DVB-I. Despite the emergence of native DVB-I clients, the application approach will remain important for operators, as it enables a more tailored and customized, on-brand user experience. Sofia Digital looks forward to further fruitful co-operation with Media Broadcast."
Jan Wessels, Head of Technical Operations at Media Broadcast says: "Media Broadcast has been satisfied with the delivery made by Sofia Digital, and this demonstrator application is a way to test new emerging technologies in real life."
About Sofia Digital: Sofia Digital brings new value-adding services and applications to different terminals. Our unique competence is in hybrid TV and open standard interactive platforms: HbbTV, DVB broadcasting and Smart TV apps, as well as content automation tools. The company's focus areas are OTT platforms, targeted advertising solutions and testing services. We enable you to distribute your content where it is wanted, in broadcast or broadband, seamlessly.
About Media Broadcast: Media Broadcast is Germany's largest service provider in the broadcasting and media industry. We offer you the entire media world from a single source, from contribution to content production and content management to broadcast and distribution. www.media-broadcast.com
More information