Television watching behavior is changing globally since various TV apps enable the viewer to decide where and when to watch the content. This freedom increases the cost for content owners as the distribution and usage devices and methods increase. On the other hand it also gives new potential revenue sources and business models.
There is a clear demand for versatile TV apps that cover as many different receivers and as wide population as possible. Sofia Digital has the solution for this challenge: HTML-based TV application platform. It enables reaching various distribution networks, smart TV and OTT platforms such as Android TV, Apple TV, Samsung and LG smart TVs, as well as all HbbTV-enabled hybrid TV networks. With Sofia Backstage product platform the content owner can maintain apps for a broad base of receivers with a reasonable investment.
In this case example we present two recent deployments in Finland powered by Sofia Digital.
MTV Katsomo is the ad-based catchup TV service of MTV Oy, a Finnish pioneer of commercial television channel since analog TV in 1950s. Katsomo is the OTT and Hybrid TV application including the programmes of the FTA channels MTV3, Sub and AVA.
Katsomo has been available in the terrestrial digital TV network as a HbbTV application since 2015. During 2017 the application has also been published in the TV application stores of Panasonic and LG with Samsung version coming later in 2017. All the app variants are HTML-based and built on Sofia Digital VOD application template with the support for MPEG-DASH and PlayReady DRM. Because Katsomo is fully hosted on the cloud, changes and improvements are quick and easy to publish to all TV platforms at same time.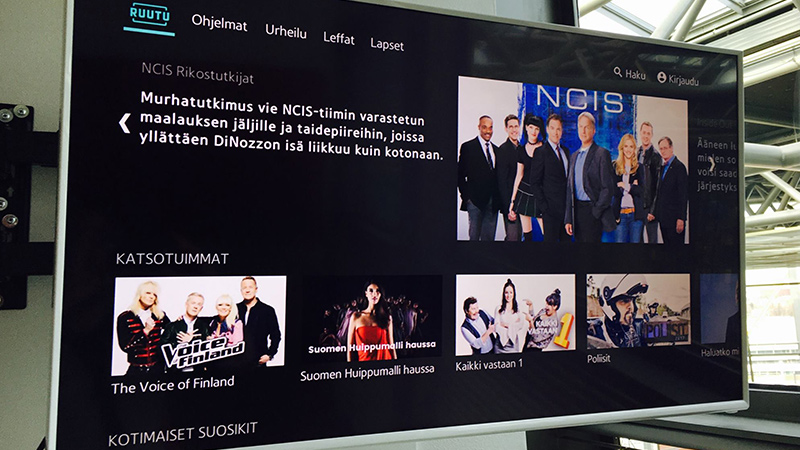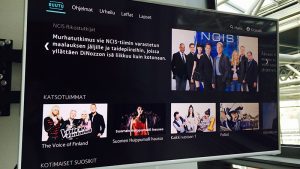 Ruutu is the online video service of Sanoma Media Finland, with both ad-based and subscription content. In addition to programming from the Nelonen, Jim, Liv and Hero TV channels, Ruutu offers premium content such as movies and live sports.
Ruutu has been available as a "red button" service for HbbTV since 2015, with ad-based content. During 2017 a fully-featured application has been published in TV application stores for LG, Samsung and Panasonic users. The service has access to premium Ruutu+ content without ads such as movies, latest series and live sports.
Do not hesitate to contact us should you be interested in smart TV applications development!