Sofia Digital, a pioneer of hybrid TV solutions and Teleste Corporation, a leading provider of video and broadband technologies and related services, will showcase at IBC2017 in Teleste's booth 5.B68 Sofia Backstage® integrated with Luminato head-end platform open application module. The extension enables building of modern value added functionalities and OTT applications for TV service operators. Example applications include Rich EPG, VOD libraries, operator's application portal, info services, TV subscription self-provisioning and "red-button" interactivity.
Sofia Backstage® is designed to manage, integrate and generate value added TV services and applications to create more value into the TV operator's network. With Sofia Backstage® integrated to the Luminato application module, existing and new customers can enjoy an integrated solution for creating new TV services and client applications based on HTML and HbbTV technology.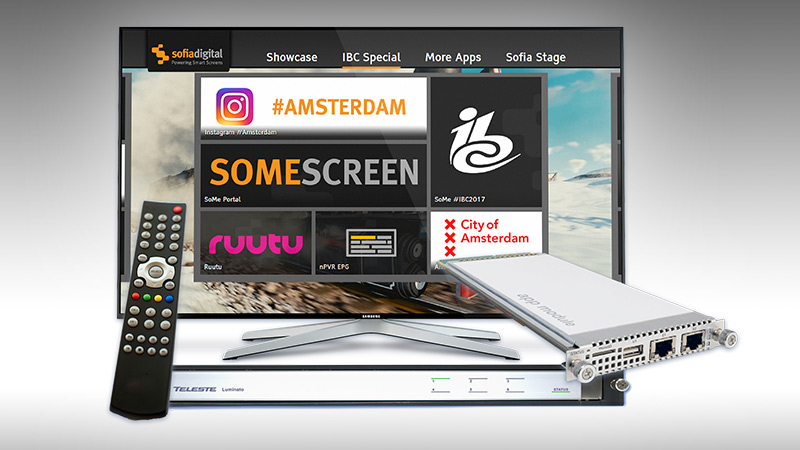 The showcase can benefit any operator or broadcaster with a DVB network and can also be deployed in hospitality and other TV environments. Sofia Backstage® includes a variety of applications that can be catered for using Teleste Luminato application module with Sofia Backstage®. For example one can develop and manage new TV applications using Sofia Backstage® Author or integrate social media such as Twitter or Instagram into the broadcast stream or TV application's portal using Sofia SOMESCREEN® – or deploy OTT video services such as catch-up TV, on-demand and premium video services similar to Ruutu and Katsomo in Finland.
The installation of the solution is easy and does not require any additional rack space because the Sofia Backstage® Playout Manager is installed into the Luminato application module which is hosted in the same head-end chassis with other Luminato modules. It generates the required signaling to DVB stream enabling the TV or STB to activate and access the additional services controlled by the service operator. TV applications are loaded into receivers over cloud or the Internet from any web server or in an offline scenario, broadcast carousel file delivery can be used.
Sales Director of Sofia Digital, Mr. Juho Mäyränpää comments: "This year's IBC exhibition is a great milestone for us. We are excited to have our application operating in Teleste Luminato headend platform, which is one of the most widely deployed digital head-ends globally. It gives us a great opportunity to expand our solution to enable end-to-end offering for TV operators, including a complete head-end and delivery network enabling value-added client and OTT applications inside one solution."
About Sofia Digital
Sofia Digital brings new value-added services and applications to different terminals. Sofia Digital's unique competence is in hybrid TV and open standards interactive platforms. Sofia Digital enables content distribution in broadcast and broadband, seamlessly. Sofia Digital combines the pioneering knowledge of digital broadcasting and internet technologies with Scandinavian design and usability ideas. This way, Sofia Digital's solutions are both functional and pleasant to use. See more: sofiadigital.com