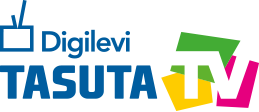 Estonian digital television operator Levira has started hybrid-TV services in their Freeview "TasutaTV" terrestrial TV platform. The services cover all the major free-to-air channels and can be used throughout Estonia with a HbbTV-compatible smart TV. The hybrid services and platform have been developed together with Sofia Digital.
The TasutaTV HbbTV-based "HübriidTV" service offering covers rich EPG and catch-up TV features for the major Estonian FTA channels that are made available via the Sofia Backstage "Reb-button" functionality.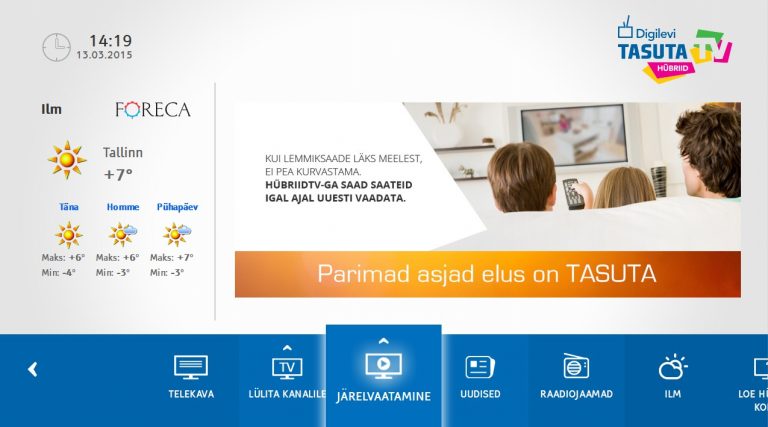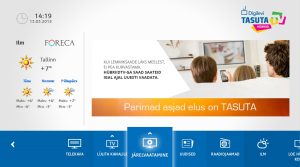 From logical channel number 6 users can find a dedicated TasutaTV interactive portal channel to access all the regular TV channel services and additional OTT applications such as News, Weather and radio streams over IP as well as additional extra TV channels streams.
The Levira hybrid TV solution was built and launched with Sofia Backstage HbbTV platform. Technical solution supports latest technologies with HbbTV 1.5 though most of the services can also run with most of the existing HbbTV 1.0 receivers.
Levira's CEO Mart Einpalu comments:
"HbbTV is a solution to enjoy all the pleasure of catchupTV from the big screen. By combining the best content of Broadcast and Broadband networks the TasutaTV Freeview platform meets ideally the expectations of most TV-audiences"
Ari Pöyhtäri, CEO of Sofia Digital continues:
"Levira's TasutaTV HbbTV platform is a modern, future-proof and scalable system to offer smart TV services and new video applications with a unified user interface."
About Sofia Digital
Sofia Digital is an internationally recognized provider of interactive video and TV solutions, bringing new value-adding services to different TV terminals utilizing new digital technologies. Sofia Digital focuses on open standard interactive platforms, such as IPTV and HbbTV as well as digital signage. Since its foundation in 2000, Sofia Digital has served for example operator, broadcaster and device manufacturer customers in over 35 countries.
Contact: info@sofiadigital.com
About Levira
Levira is a TV and radio network service provider and operator of the DTT Freeview platform "TasutaTV" in Estonia. Headquartered in Tallinn, Levira also runs one of the largest datacenters in the Baltics and is the largest provider of TV play-out and media services in Northern Europe. Levira's customers include multinational and regional broadcasters and IT-companies like Turner, Sony, MTG, EBU, Public Broadcasters, Discovery, ATEA, A-Data, TeliaSonera, Tele2, Starman, Elisa, Kanal2, TV3.
Further information:
Kristi Kurell
kristi.kurell@levira.ee
+372 50 376 79