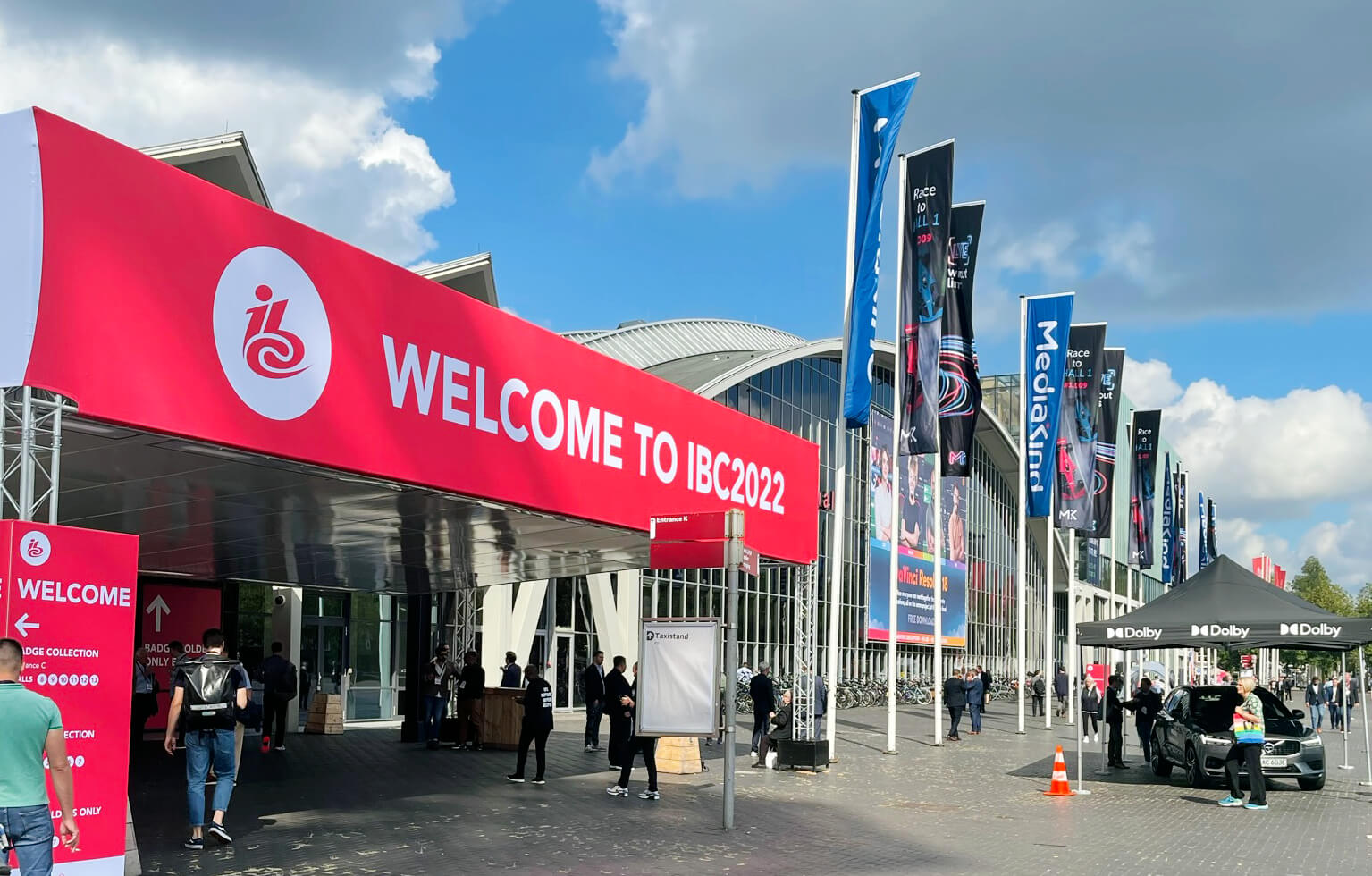 Sofia Digital exhibited at the IBC2022 event at the RAI Amsterdam. The four-day event had over 37,000 visitors from 170 countries and over 1,000 exhibitors. After the two previous events were cancelled, one could feel people's excitement to finally meet again, face to face. As IBC promoted, "we are stronger together". It was quite clear that the exhibitors had made an extra effort to bring their next-generation solutions and innovations to be seen at the show.
Our team of seven people was amazed by the huge interest in our demos. In addition to a record number of prebooked meetings, our stand was also very busy with other visitors for the whole duration of the trade show. The team did not have a lot of time to rest. After the long days, we also had many wonderful dinners and evening events, like the DVB Project drinks reception, the CDN Alliance Connect and the DASH-IF Networking at the Heineken Experience. Many thanks to the organizers of these great events!
Our demos included OTT and Targeted Advertising solutions and especially DVB-I. Just before the IBC, we introduced the DVB-I client within an HbbTV Op App, triggered by a CI Plus Conditional Access Module. We collaborated with Twise to bring this innovation. The whole story can be read here ».
Part of our team had the chance to attend the IBC content sessions. We focused our interest in topics like OTT, User Experience, 5G, Connected TV Apps and many more. In general, the quality of the sessions varied a lot.  While some presenters gave little more than simple company presentations, there were also many presentations and discussions which really gave good insights into the major things happening in the future of this industry.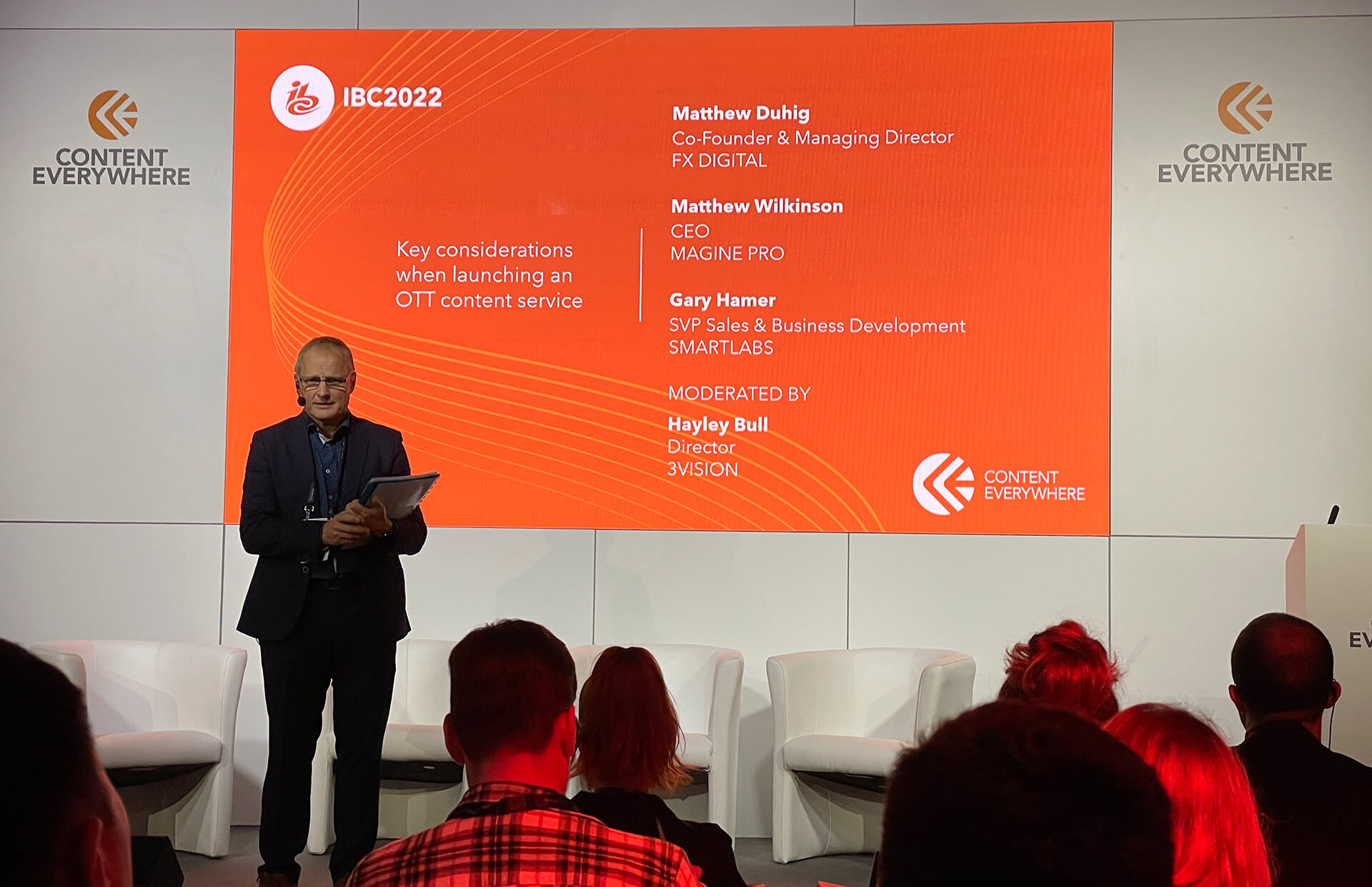 Sofia also offers an OTT solution, and OTT seemed to be a very popular topic at the event in general. We wanted to dig into this topic a bit more and summarize the top things to consider when launching an OTT content service. We have been talking about these same things with our clients and partners, and it is nice to see the major players in the industry share our thoughts.
So, what are the key things to keep in mind when launching an OTT service?
Big screen rules
Big screen is the fastest growing platform for OTT and covers over 50% of all OTT video viewership. It is thus essential to focus major efforts on the TV platforms.
Content is king
Of course, without interesting and in many cases specialized and audience-focused content, it is hard to compete with the big players. Make sure you have enough resources and sources to continuously push interesting new content. Study your audience, possibly find fanatical viewers based on location or specific content interests. When launching a new service, try to make your content available on other platforms to make it easy to find. There has been a lot of commotion about the so-called super-aggregators, which certainly have a lot to offer, not only to consumers but also content producers: enabling a bigger audience and also activating the long tail of the audiences.
Select the right device reach
It is important to study your target audience and decide which devices across mobile, web, connected TV and Set Top Boxes are essential to your service. The number of devices and their variations (models, platforms, programming language) directly affect your budget, both development and maintenance.  The device fragmentation is constantly growing. Developing and maintaining high quality applications in this environment of ever-increasing complexity requires an extensive testing laboratory – like Sofia Digital's testing zoo of over 120 receivers, for instance.
Inside the device OS space, a lot of things are also happening. Behind Google's Android TV and GoogleTV, vendors like Tivo/Xperi and Hisense are busy promoting their platforms for TV manufacturers and operators. And, of course, Samsung, LG and TPV are the big players utilizing in-house TV operating systems in their device line-ups.
Right partners
Find technology partners with true experience and real cases to show proof of actual know-how. Usually when building an extensive OTT solution, it is also critical to have multiple partners to cover different aspects (i.e. encoding, transcoding, DRM, CDN and content management) of the implementation. Solid relationships between these partners and device vendors/telcos ensure success when building your service. In this space, there is still a lot of market share to be divided between different players. From Tier 1 to Tier 4 players, different kinds of solutions are needed at different price points and with different capabilities.
Start with the essential features
Your application will fail if it has a wide range of functions but the basic things do not work properly. The most important part of your service is the actual video player. Features like seeking, lip sync, subtitles, language selection and a smooth response are mandatory. After you get the player and basic browsing working, then you can continue with the more advanced functions. It should also be noted that the EU accessibility initiative has set some new requirements for all content providers, at least in the EU area.
User experience
Users of big screen user interfaces are demanding; the application simply must work flawlessly. For example, if the player is lagging, the user will quickly switch to another service. One major topic in OTT services is also consistency between different devices. Users jump from Smart TV to mobile devices, or between their different TV sets which can be different brands and models. They expect a seamless and uniform watching experience and that the same content and features are available across different devices. When designing the user interface and functions for your service, all different devices and usage situations must be treated as a single user experience entity.
How about the future of OTT?
Currently, the big players are developing advertising-based video on demand (AVOD) to bring greater revenue and a larger audience. Furthermore, subscription video on demand (SVOD) will likely include advertisements. Large streamers are also investigating the possibilities to build lifestyle bundles by combining different services (Apple, Disney, Amazon Prime) to their subscriptions. Connected TV is the most used device environment for video consumption, so it should be the top priority in your device strategy.
As mentioned, there are a lot of things happening in the TV operating system space. Unlike mobile, it is not all Google and Apple. The next few years will tell whether new powerful and independent TV operating system players will emerge.
IBC2022 – Not as expected?


When coming to IBC, our feelings were a bit skeptical. Our expectations were not too high after the cancellation of the events in 2020 and 2021. Fortunately, the show was a far better experience than we expected. The excitement of the visitors and exhibitors to return to IBC was tangible. The session content (with a few exceptions) and the quality of the exhibitors' offering was great. From our perspective, the event was a real success. We had very good discussions with our existing customers and made many new connections and business opportunities.
We are coming back next year and have already booked a stand. According to the IBC organizers, the interest in IBC2023 is already so high that they are expanding the show footprint to include an additional hall not used this year.
Looking forward to seeing you again next year!
Best regards,
Sofia Digital IBC2022 team