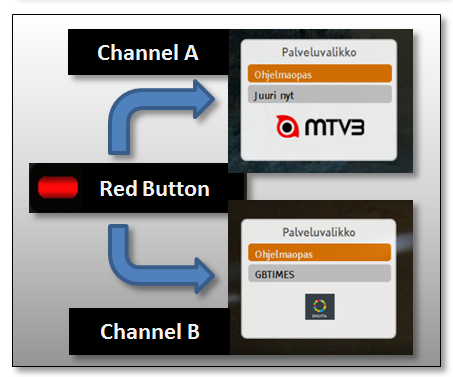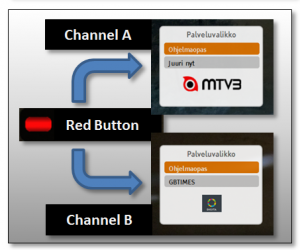 HbbTV is the ideal way to add supplementary content to traditional TV transmissions using broadband and broadcast connectivity.
Viewers can access the services using the "Red Button" or the broadcaster can trigger the content automatically for services such as  statistics during sport events or alerts when a major news story is breaking out.
For the broadcaster HbbTV is the only viable technology to bring TV content over the internet without losing the connection to the live TV broadcast. Viewers can enjoy internet content simultaneously with broadcast content, with the broadcaster's brand still being visible and dominant.
For the operator HbbTV offers the chance to promote their own content portfolio for example using a dedicated service with LCN (so-called barker service) which can be easily accessed from all receivers using the EPG and channel list. HbbTV provides the technology to realize operator's own Portal screen with enhanced EPG, News and Video services.
Using the dedicated Barker Service or Operator's own info-channel they can reach all connected smart TV households and with the use of the CI+ module charging for premium content is easy. Using the features enabled by HbbTV increases ARPU and creates extra revenue for the operator. Connecting the premium content subscriber data with HbbTV Service portal brings the possibility of promoting on-demand content in linear TV and charging for it can be done using a single invoice.
Some Market
 Facts and
 estimations

Connected TV market share is increasing
New televisions are actually connected more often
Smart TV processing power is higher than regular STB
Consumers like to use one device – if possible
All the services can be reach under same User Interface and one remote controller
If operators cannot reach household using CI+, the OTT-customers are lost to other service operators
HbbTV enables implementing one single application to reach all well-known TV vendors!
About Sofia Digital
Sofia Digital is an internationally recognized provider of interactive video and TV solutions, bringing new value-adding services to different TV terminals utilizing new digital technologies. Sofia Digital focuses on open standard interactive platforms, such as IPTV and HbbTV as well as digital signage. Since its foundation in 2000, Sofia Digital has served for example operator, broadcaster and device manufacturer customers in over 25 countries.