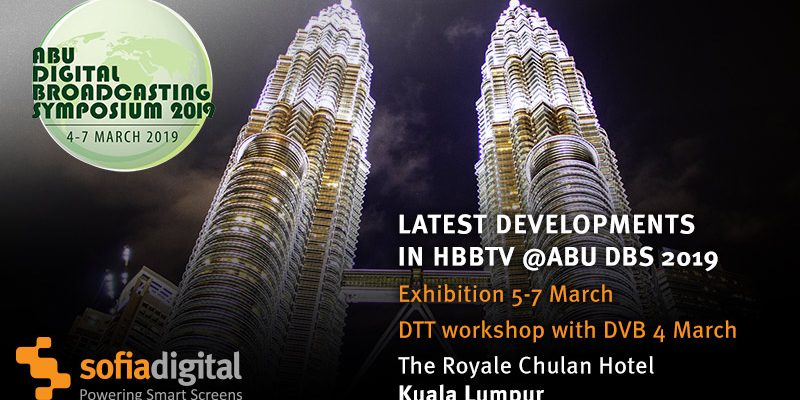 In March 4-7, 2019 Sofia Digital will be presenting at the Asia-Pacific Broadcasting Union in its annual Digital Broadcasting Symposium at The Royale Chulan Hotel at Kuala Lumpur, Malaysia. The full agenda of the event can be found at http://dbs.abu.org.my/.
Mr. Mika Kanerva, the company's COO will be speaking about "Latest developments in HbbTV " at the Thursday 7th March afternoon session.
In the ABU DBS 2019 exhibition area, from 5th March until 7th March, visitors can find various services powered by Sofia Digital at RTM, Media Prima and Ideal System booths and also see the MyTV live DVB-T2 signal.
In connection with the ABU DBS, Sofia Digital is in co-operation with DVB presenting the ABU 2019 pre-conference DTT workshop, from 09:00 to 12:00 on Monday 4 March. The workshop will include both presentations and hands-on technology demonstrations where Sofia Digital's focus is on Hybrid TV, DVB-T2 and HbbTV services.
See more at: https://www.dvb.org/events/dvb-workshop-at-abu-dbs-2019