In this paper we describe how Sofia Backstage® Studio is used for TV broadcaster's reference recording. Sofia Digital has delivered reference recording solutions for two broadcasters in Finland. One of them is currently using Sofia Digital technology to record 24/7 all of their TV channels for five weeks period. The term reference recording refers to a service that allows the broadcaster to record all aired television programs sent on their networks and allow access to the recordings if needed. The number of recorded TV channels can vary (both SD and HD resolution). The recording is done in the original MPEG-2 Transport Stream (TS) format without losing any bit from the official streams. Each stream is stored in 10 second chunks to TS files. From this TS a preview version of the TV programs is generated in HLS format. HLS video contains all audio tracks and separate subtitles, which are available in the original version. Broadcasters' playout automation data is used in creating the separate programs from the TS, this way it is possible to get frame-accurate start and end positions for each TV program.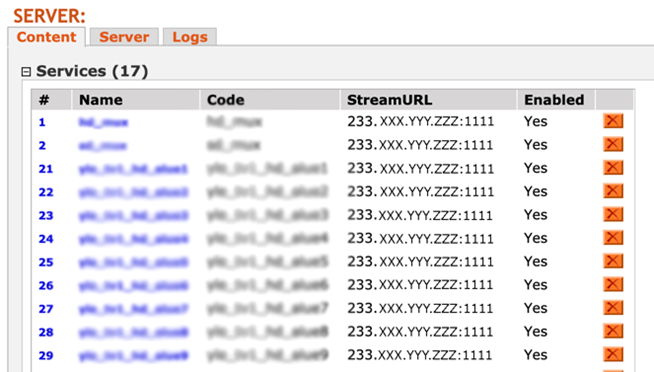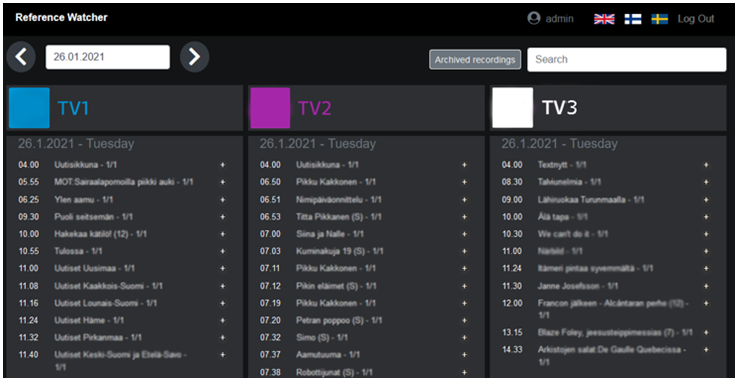 The users of this service are broadcasters' personnel, who want to review TV programs in all aspects of what was broadcasted. Sofia Backstage® Studio provides an easy way to review the programs through a web application containing all the recordings together with the EPG data. Users log in to the service by using Microsoft/Azure AD credentials and correct features in the application are provided based on their rights. In addition to a rolling five weeks buffer, it is possible to save a TV program to a persistent storage. This allows coming back to the saved program also later. Even in this case both the original MPEG-2 TS and the HLS-version of the program are stored for future purposes. It is possible to review video streams in the original TS format for a technical investigation to check e.g., that all components of the stream (video, audio, subtitles, teletext) are correct. Another important feature is that the system allows is the possibility to download a local copy of the TV program or only a selected part of it. If the video file is given outside the house then the system allows the burning of the company logo and extraction timestamp to the video.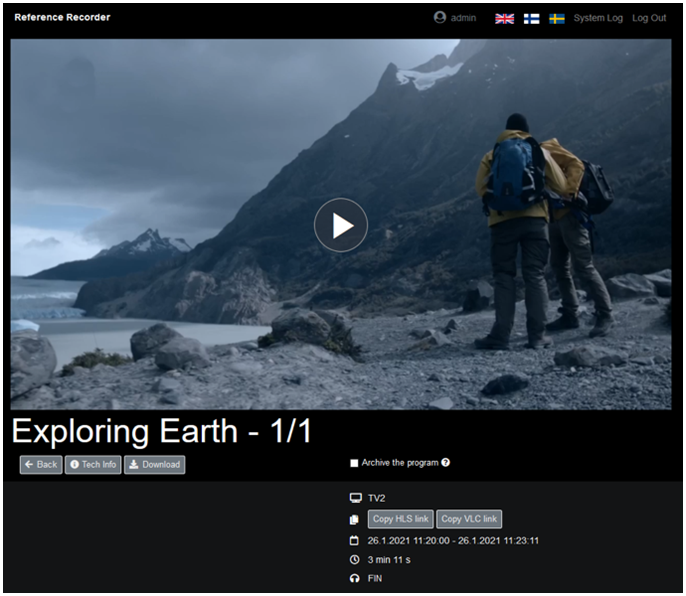 To guarantee the best possible quality of service (QoS) the platform is installed on dedicated servers at Digita premises. Digita is the nation-wide DVB-T/T2 network operator in Finland. The system receives the same IP multicast stream, which is going to be aired, and records it to a storage device. Fujitsu Eternus DX series storage system is used for storing both MPEG-2 TS streams and the generated HLS video assets. Sofia Backstage® Studio runs on Fujitsu PRIMERGY RX2530 M5 servers on top of the SUSE Linux Enterprise Server operating system and the most important features are divided into dedicated servers. These are:
Continuous MPEG-2 TS stream recording
 HLS encoding from the TS content
Application server
Web server providing the application to end-users
All functionality in the system is Sofia Digital's own development but it is also possible to integrate components from other providers to work together with Sofia Backstage® Studio. In this case, encoding is done only into HLS, but the system allows also MPEG-DASH or even CMAF to be the format.

About Sofia Backstage® Studio
Sofia Digital's Video Services include a full bouquet of services from ingest to transcoding and delivery to VOD portals. Sofia Digital is a one-stop-shop providing all the features of a full-fledged integrated video service offering. This is enabled by partnering with world-leading brands and local professionals in the different areas of the video capture and delivery process. The services can be provided as customer-specific hardware implementations or from cloud/SaaS, whichever is preferred by the customer.
Sofia Backstage® Studio deployment may contain one or more components from the process described below.

In addition to partner solutions, Sofia Digital provides VOD catalog integrations, small-scale transcoding, VOD management, and portals for almost any smart device. The company also provides professional services in all areas of the solution.