Finnish National Opera and Ballet (FNOB) has deployed Sofia Backstage® Studio for recording, management and playout of its video assets. The solution consists of media player devices, video portal, video library and video recorders which record live video from multiple sources.
The media player provides easy access to videos for artists and other artistic as well as technical personnel in their rehearsals and reviews. It runs in a standard PC hardware with a dedicated simple-to-use remote controller. In addition to these media players, a web-based video portal is available for office users and can be accessed with any standard HTML-browser application on a PC and iPad or Android tablet. Media player features include:
List view of the titles in each category (opera, ballet, other, live)
Easy to jump forward and backward in the video
Easy to fast forward and rewind in the video
Possibility to set bookmarks during the viewing
Easily jump between bookmarks (easy to repeat a certain period of the video)
Currently the number of media players with advanced functionality installed in the rehearsal studios and workplaces is over 50 units. The solution is integrated with FNOB's production management system (Theasoft metadata) which automatically assigns correct metadata to generated videos including cast, performance or rehearsal schedule and duration. The solution also enables exporting and importing of the video files in full HD resolution with the option to update to 4K in the future.
"The new video platform together with media players brings instant video playback after rehearsals, crystal-clear HD-picture with an easy-to-use interface and bookmarking possibilities for the dancers and ballet masters. There is no need to make 10 copies of old-fashioned DVD discs after each rehearsal/performance to be used at rehearsal studios every day", said Petteri Laukkanen, Deputy Head of Sound, FNOB.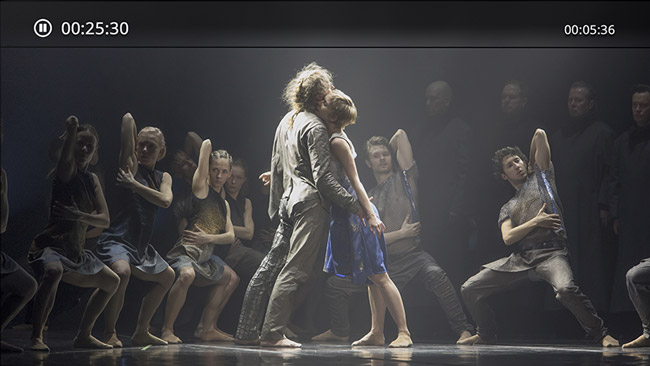 "We are proud to work with such a pioneer in the performing arts. Working with FNOB has been fruitful and we both have learned a lot from each other", continued Ari Pöyhtäri, CEO, Sofia Digital.
About Finnish National Opera and Ballet
The Finnish National Opera and Ballet is a national art institution, offering opera and ballet performances and other events to audiences of all ages. Guest performances, school operas, TV broadcasts, and streaming bring the FNOB to everyone all over the country and even the globe. In terms of personnel, the FNOB is a medium-sized opera and ballet company. There are about 550 permanent employees. The Orchestra has 111 members, the Chorus has 50 singers, and the Ballet has 78 dancers. Finnish and foreign guest performers appear alongside the FNOB's own soloists. The FNOB also employs experts from a wide range of crafts specialities, from shoemakers to metalworkers. The FNOB had 622 performances in 2019, over half of them free of charge. With these performances FNOB reached 286 408 people in live performances. Digitally, through streaming and TV broadcasts, it reached nearly 1 million people.
The reference contacts at FNOB are:
Petteri Laukkanen, petteri.laukkanen@opera.fi and
Tuomo Issakainen, tuomo.issakainen@opera.fi
About Sofia Digital
Sofia Digital is an internationally recognized provider of interactive video and TV solutions, bringing new value-adding services to different TV terminals utilizing new digital technologies. Sofia Digital focuses on open standard interactive platforms, such as IPTV and HbbTV. Since its foundation in 2000, Sofia Digital has served for example operator, broadcaster and device manufacturer customers in over 37 countries. Contact: info@sofiadigital.com.