THE NEW GOLDEN AGE OF TELEVISION
Streaming video services, smart TV, mobile and companion devices and other new technologies were supposed to spell doom for traditional broadcasted TV. But instead, they have created a new, better, more available and more personal enriched TV. The best of TV, linear content and Internet together. They brought the new Golden Age of television.
TAKE YOUR TV TO NEW PLACES
Digitalization, smart TV and streaming service projects open new channels for your content – we provide the technology that makes it simple and safe. Sofia Digital is the worldwide pioneer in creating the new television.

Connected TV dominates.
Share of device viewing hours for OTT content 2019.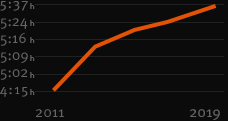 Total video hours continue to grow. TV and video consumption 5:37 h per day.

Share of Smart TV's in total TV sales globally (2018).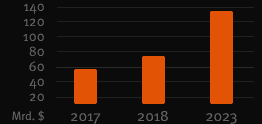 OTT and connected video revenues still on the rise. Global forecasts in top countries.