The Tur

kish Radio and Television Corporation (TRT) has started hybrid TV services on their HD channels utilizing HbbTV technology by Sofia Digital. The "TRT ARTI" (ie. "TRT Plus" in English) services are available via TRT's HDTV channels broadcasted via Turksat satellite, covering Turkey and most of the European countries for all HbbTV enabled DVB-S2 receivers.
TRT ARTI services are available via a "red button" and offer a wide variety of applications:
Service menu offering the access to all available applications
Rich Electronic program guide (EPG) with trailer videos and direct integration to catch-up viewing
Digital teletext services including News, weather and finance information
On-demand video services to offer video content from TRT online video services
During 2015 the services will be expanded with more applications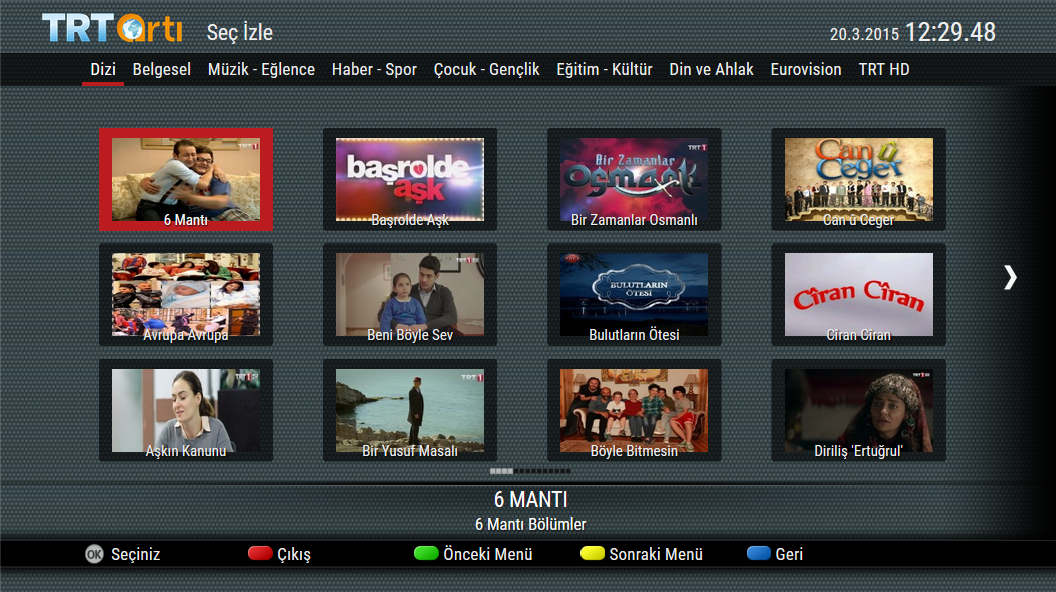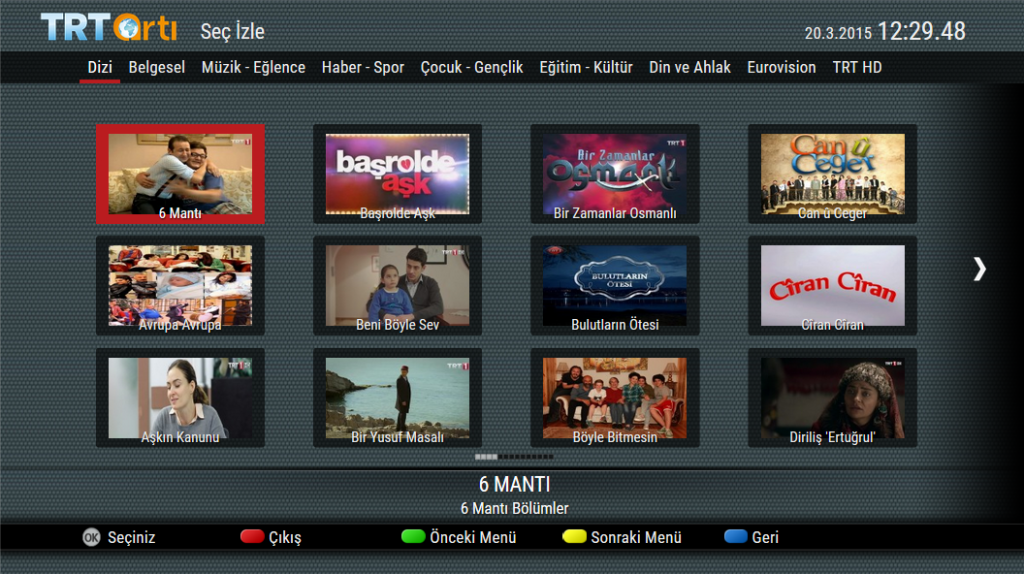 The hybrid platformand applications have been developed by Sofia Digital in collaboration with the local partner company Yol Digital. Technical solution Sofia Digital Backstage supports latest HbbTV 1.5 specification though the services are available also on selected HbbTV 1.0 receivers.
Chief Engineer Mr. Ruhi Tas working as the project manager for TRT HbbTV project comments: "Sofia Backstage HbbTV platform has been working reliably and enabled deployment of completely new integrated services based on the TRT's online interfaces". He adds "Since the launch TRT ARTI service has gain already more than 300.000 active users, which is a good number of connected TV viewers without any marketing efforts."
Mr. Ari Pöyhtäri, CEO of Sofia Digital says: "TRT HbbTV project is an excellent case showing how broadcasters can bring new digital applications and Internet video services to regular TV channels without massive new investments, utilizing the deployed connected TV receivers already out in the market."
Mr. Mehmet Can Hakli, HbbTV Product Manager of YolDigital, adds "Turkish TV viewers are avid followers of new media services which helps media companies to take bold steps to adopt new technologies. Usage statistics show that HbbTV enabled devices are well spread in the market and TV users are very comfortable to adapt to the HbbTV technology. TRT ARTI project is first-to-market in Turkey and its success will inspire new stakeholders and markets to adopt HbbTV services."
About Sofia Digital
Sofia Digital is an internationally recognized provider of interactive video and TV solutions, bringing new value-adding services to different TV terminals utilizing new digital technologies. Sofia Digital focuses on open standard interactive platforms, such as IPTV and HbbTV as well as digital signage. Since its foundation in 2000, Sofia Digital has served for example operator, broadcaster and device manufacturer customers in over 35 countries. Contact: info@sofiadigital.com
About YolDigital
Yol Digital was formed in 2012 with the consolidation of media consulting and service provider business in Turkey. With over 30 years of accumulated experience in the European and Turkish markets can offer a unique perspective and provide businesses with reliable scalable solutions and tools for the distribution and monetization of media content.
About TRT
The Turkish Radio and Television Corporation, also known as TRT, is the national public broadcaster of Turkey and was founded in 1964. All TRT television channels can be watched via Turksat satellite in Europe in Asia and terrestrial in Turkey and neighboring countries.
Contact: ruhi.tas@trt.net.tr